Here's another honest review of a program called Loaded Lab.
I have known Liam James Kay for a long time, ever since I started my journey as an affiliate marketer.
His YouTube tutorials have taught me a lot in the aspect of affiliate marketing.
And applying his free teachings changed my life.
The moment I heard about his Loaded Lab Community Program.
Which he launched this year 2023, I immediately gave it a try.
By the time you finish reading this guide, you will be able to make the best decision concerning this program.
I will be writing this as a student of this program and give you my honest verdict concerning it.
This Loaded Lab program is split into two segments.
You can either become a student and use the knowledge given in the program to make money or become a promoter of the program and earn money by promoting it.
Whichever path you choose, I am going to discuss it with you in this guide.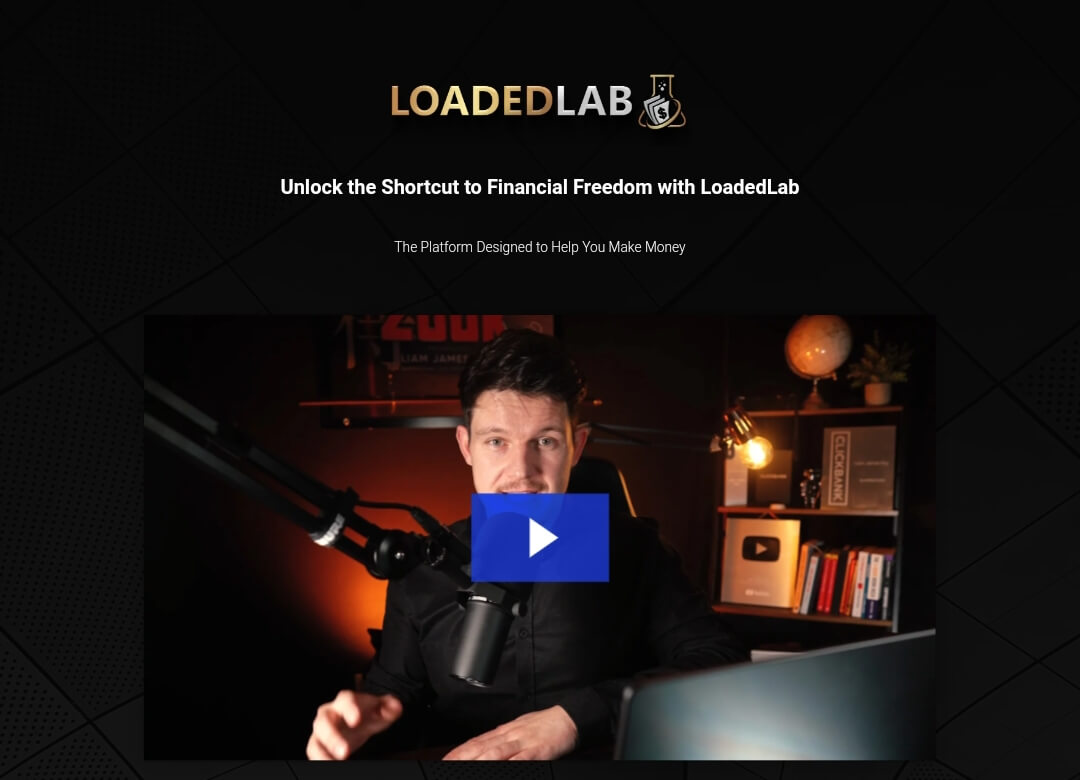 What is the program about?
Loaded Lab is a community of great minds with access to $10,000 worth of courses.
Where you can learn about affiliate marketing, print-on-demand, Native Ads, Google Ads Masterminds, and other traffic masterclasses.
With this program, you will learn from Liam James Kay and gain access to his NEW Passive Profits Accelerator affiliate marketing training.
The amazing thing about all of this is that you can join and partake in all these benefits for just $1.
Instead of spending money on costly courses that won't even benefit you in the end.
Loaded Lab offers you the opportunity to learn for just $1.
While others who don't know about this opportunity are paying thousands of dollars to other online gurus.
It's a way to fast-track your success and get results while surrounding yourself with a community of goal-getters and industry experts.
Who is Liam James Kay?
I have known Liam for a long time, ever since I started my affiliate marketing journey.
He is a content creator on YouTube with over 300,000 subscribers (YouTube screenshot).
He also has a social media presence with over 20,000 followers on Instagram and several thousand across all other platforms.
Liam has won several affiliate marketing awards, ranging from being a top leading affiliate on Clickbank.
All the way to winning a car award for making the most sales from selling an affiliate product among other affiliates in the world.
This tells you that Liam James Kay is a go-to expert when it comes to the field of affiliate marketing specifically and making money online generally.
This guy has already gone through the thick and thin of affiliate marketing, print-on-demand, and traffic generation at large.
That is why he is here to impact you with his new community and platform, where you can make money with him.
This is not Facebook, TikTok, or Instagram, where you will follow people who are creating content for fun.
On the Loaded Lab platform, you are socializing with people who will push you to make progress and get fast results in making money online.
How to Join Loaded Lab as a Mentee?
Joining Loaded Lab is simple and straightforward. You can easily join by clicking here and registering an account.
Anyone from any location can join Loaded Lab and immediately start learning and implementing from industry experts.
You can decide to share your experience later after you have started making money with the program.
How to Join the Loaded Lab Program as an Affiliate
You can also decide to join Loaded Lab as an affiliate if you have an audience that you can promote to.
The affiliate program comes with a two-tier commission basis with 100% on initial and front-end sales, while recurring commission of 30% on referring customers.
Although my best advice for those who don't have an audience yet is to join Loaded Lab itself and learn the scope of affiliate marketing and traffic generation.
After that, you can go ahead and use what you have learned to promote Loaded Lab and get results.
But if you already have an audience and feel capable, then you can go ahead and promote Loaded Lab.
Another interesting fact about the program is that you earn a 30% commission from every referring affiliate that joins through your referral link.
Meaning, if a person registers to promote Loaded Lab through your affiliate link and starts making sales from selling the program, you will earn a 30% commission from their sales.
So, it's a win-win situation for both students and struggling online hustlers who want to learn how to make money online with Loaded Lab.
And reputable affiliate marketers who have an audience and want to promote Loaded Lab to earn money online.
The Cost of Joining Loaded Lab (Price)
The cost of joining Loaded Lab is not exorbitant like those costly high ticket courses from internet gurus.
Liam has decided to hear the plea of struggling affiliate marketers and online hustlers and made this affordable for just $1.
You can decide to join the community and test out what is going on inside for just a dollar.
If you are not okay with what's inside and feel like you don't see any impact in joining the program, then you can decide not to renew your subscription and move on with life.
However, I feel risking $1 shouldn't be too difficult since you are not being charged $5000 after booking a call like other costly courses out there.
This is Liam giving you the opportunity to learn from him and share part of his journey to make quick success for just a buck.
Let's go ahead and discuss the drawbacks and benefits of this program.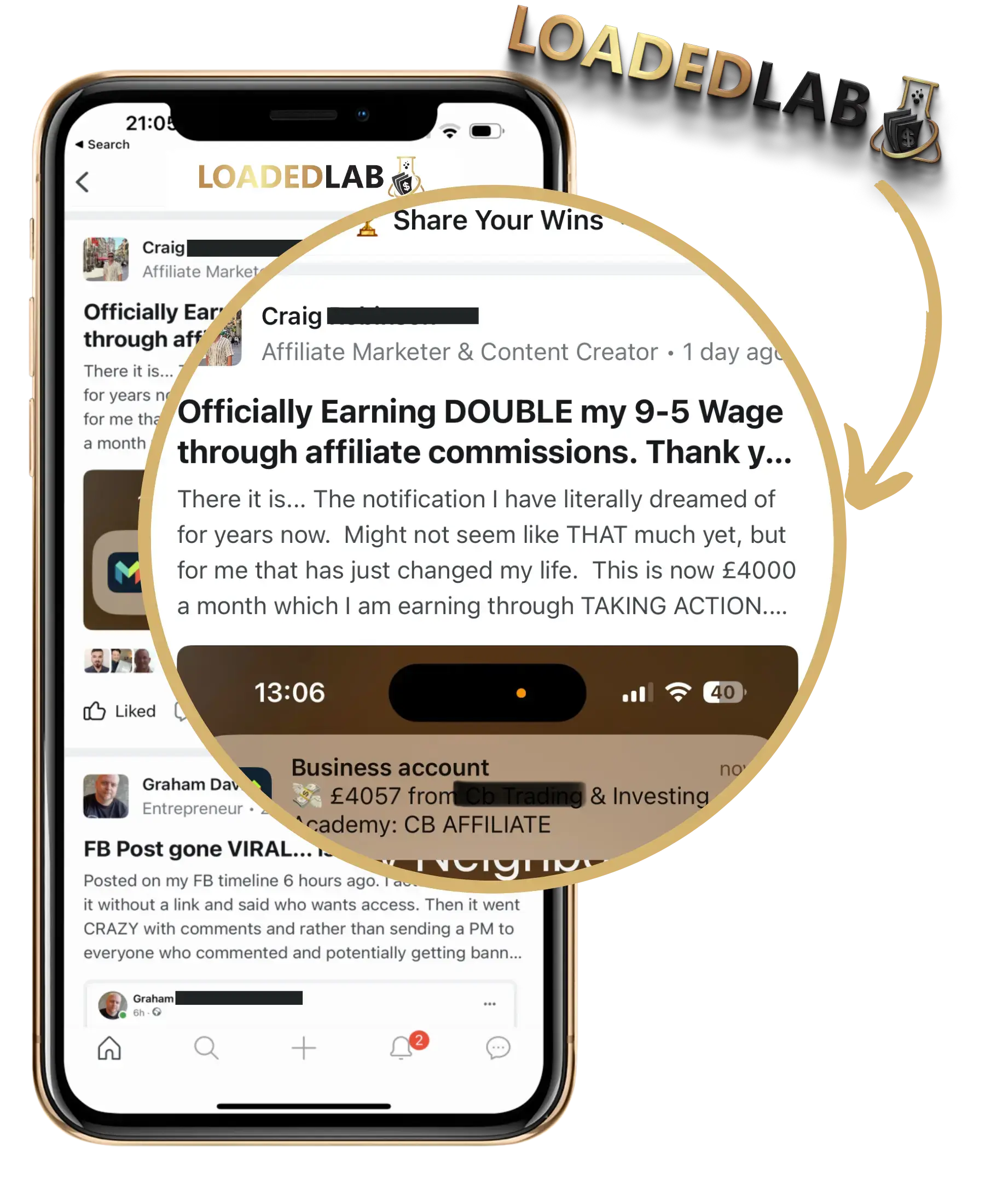 Drawbacks of the Program
Let's get straight into the drawbacks of this program and what I feel skeptical about.
1. It's Too Cheap
I feel like the program is too cheap to join for just $1 since Liam has sold those courses before for a little higher cost.
So, it makes someone like me who bought his 6 Figure Affiliate Bootcamp in the past for a high cost feel unpleased.
Because anyone who just goes ahead and joins his Loaded Lab for just $1 can get access to the course that someone like me paid a lot of money to join.
So, for his students who have bought his courses in the past, even though we are grateful for his teaching, we still feel jealous.
2. The Community Is Too Private
Well, unlike the community of Facebook and some other social media forums that you can get easy access to, the community is too private.
I would like it if Liam could make the community have a clone on social media.
I just feel that social media is better than other types of community.
However, it's your choice to know the one that you like best.
This is just my own downside which I see about this program.
Benefits of the Program
Well, since we have discussed the drawbacks.
Let us take a look at the benefits and good side of Loaded Lab.
1. Learning from an Expert
First, you are learning from an expert: Liam James.
This guy is a leading affiliate marketer on Clickbank and other affiliate programs and networking worlds.
He has made a lot of money and has impacted a lot of people with his free and paid tutorials.
So, you are getting access to his secrets for just a buck, which is something you should be appreciative about.
2. Learning from Several Other Experts
Aside from the fact that you are learning from Liam, you are also learning from a group of other experts.
Because he will be bringing in some other scholars and experts in the field of affiliate marketing to also teach you in the community.
So, this is another added advantage to learn from other people who are even superior to Liam.
This is what makes a lot of people able to fast-track their growth. You will just be shocked at how they got rapid success.
3. Access to Several Courses Worth Over $10,000
Aside from getting one-on-one access to Liam and his group of other mentors and experts.
You will be getting access to a catalog of courses that are worth ten thousand grand.
This is huge because you don't have to spend a high cost to learn these courses.
They include:
Passive Profits Accelerator; which is the new 2023 affiliate marketing course that Liam just created and will teach you how to earn passive income. You can click here to watch this webinar of where Liam uses AI to generate $328 daily.
6 Figure Affiliate Bootcamp; This is the former affiliate marketing training of Liam that I bought which is still effective for me today. It will help you go from nothing to plenty in affiliate marketing.
POD Profit Academy; This is a new 2023 training by Liam which will teach you how to do Print-on-demand business as a side hustle with affiliate marketing. I guess this is a new money source for Liam, so he is teaching you.
Master Natives; This course will teach you how to use Native Ads to earn with affiliate marketing. This will fast-track your success without relying on expensive social media ads.
Google Ads Bootcamp; To learn the secret of Google ads and spend with less CPC, this course is in the Loaded Lab for you to learn.
Super Cheap Traffic Secrets; Since Liam has been doing this for a long time. He is also showing you more untapped traffic sources that you can use to increase affiliate earnings.
And many more courses in the program.
All these courses are worth over $10,000, and you will be getting them for almost a free cost.
4. Starting with Just $1
To crown everything, you are getting all the courses and access to these mentors and experts for just a buck.
That is why, the moment I saw it on the social media page of Liam, I immediately joined before it gets too late and it's no more $1.
So, I will give you a SPOILER to grab the opportunity as early as possible.
5. Access to a Community of Like-Minded Individuals
You will also be getting access to a community of individuals who are like-minded like you.
Those who are also desperate for success and want to make money from affiliate marketing.
This will help you get fast results because when you see others practicing what they are doing and getting results.
You can ask them what works and also apply it to your strategy, and before you know it, you are already in flying colors.
6. Live Workshops from Time to Time
All that we have stated are not all that you will get from this program.
You will also be joining live workshops from time to time where Liam will be showing you new updates.
As new trends and strategies come out from time to time, you will be getting these updates afresh.
These are things he can't reveal in his YouTube channels or social media; they are only for his private students.
You can click here to join the community today.
Should You Join Loaded Lab?
Well, I am sure that based on all the discussions that we have made in this guide, you will be able to make the best decision for yourself.
But, as for me, I believe that joining a program worth $10,000 for just $1 shouldn't be a problem for you.
At least, enjoy the trial and see what you stand to gain from even going more advanced with Liam.
It is we who have partaken in his previous teachings that know what Liam is capable of doing.
So, my best advice is to take this opportunity seriously and learn affiliate marketing and traffic generation from the beast in the game.
Final Verdict
Now that you and I have been able to conclude on Loaded Lab review, I will also suggest that you watch this webinar from Liam James.
Where he uses a secret AI method to generate $328 daily in passive income.
You can check out the webinar replay by clicking here. Try and watch it before joining the Loaded Lab Program.
However, if you have already watched it previously, but your next goal is to conclude on your decision to join Loaded Lab, then what is holding you back?
The ball is already in your court. Kick it today by clicking on the button below, and I will see you on the other side.
Enjoy.