Welcome to my organic course selling mastery review.
If you're wondering whether the organic course-selling mastery program by Carl Parnell is a scam or a legitimate one to join, well…
It's not a scam, and I have several reasons and evidence to support my points here.
Firstly, I want you to know that I am not an affiliate for this course. So, everything I am writing here is in your best interest.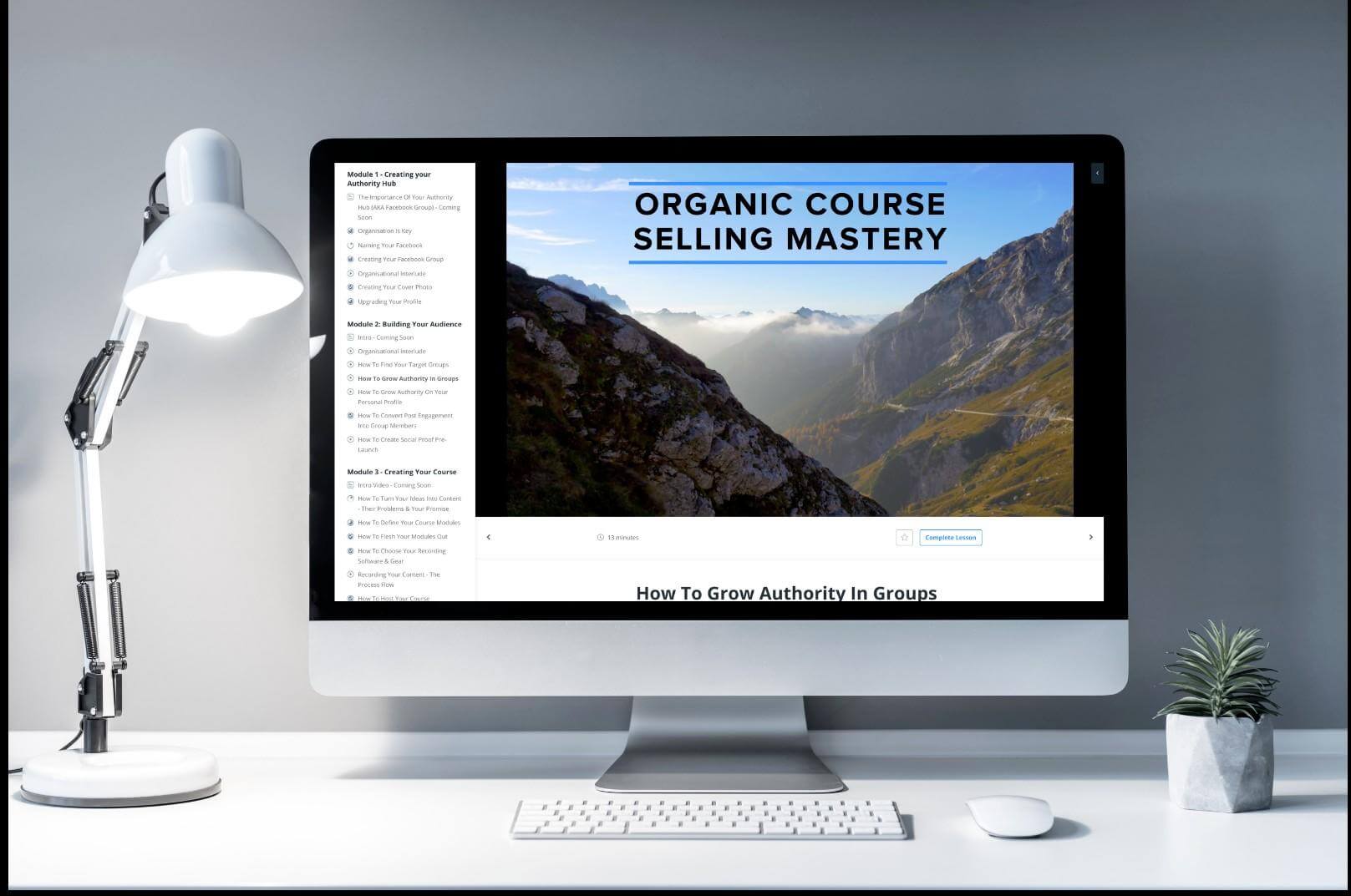 Moreover, if you decide to enroll in the program after reading this review, there's a coupon code and a link that I used to purchase this course and get a $500 discount off the actual price.
You can use the coupon code and the link to gain access to the program (as it's still very active now), while others are paying the full price.
That is my only way of helping you pay less and also showing you the dashboards and everything you will receive in this program, along with its advantages and disadvantages.
Use this link (https://digitalproductsmonk.com/OCSM-500Off) to access the program, and use the coupon code (MONK500).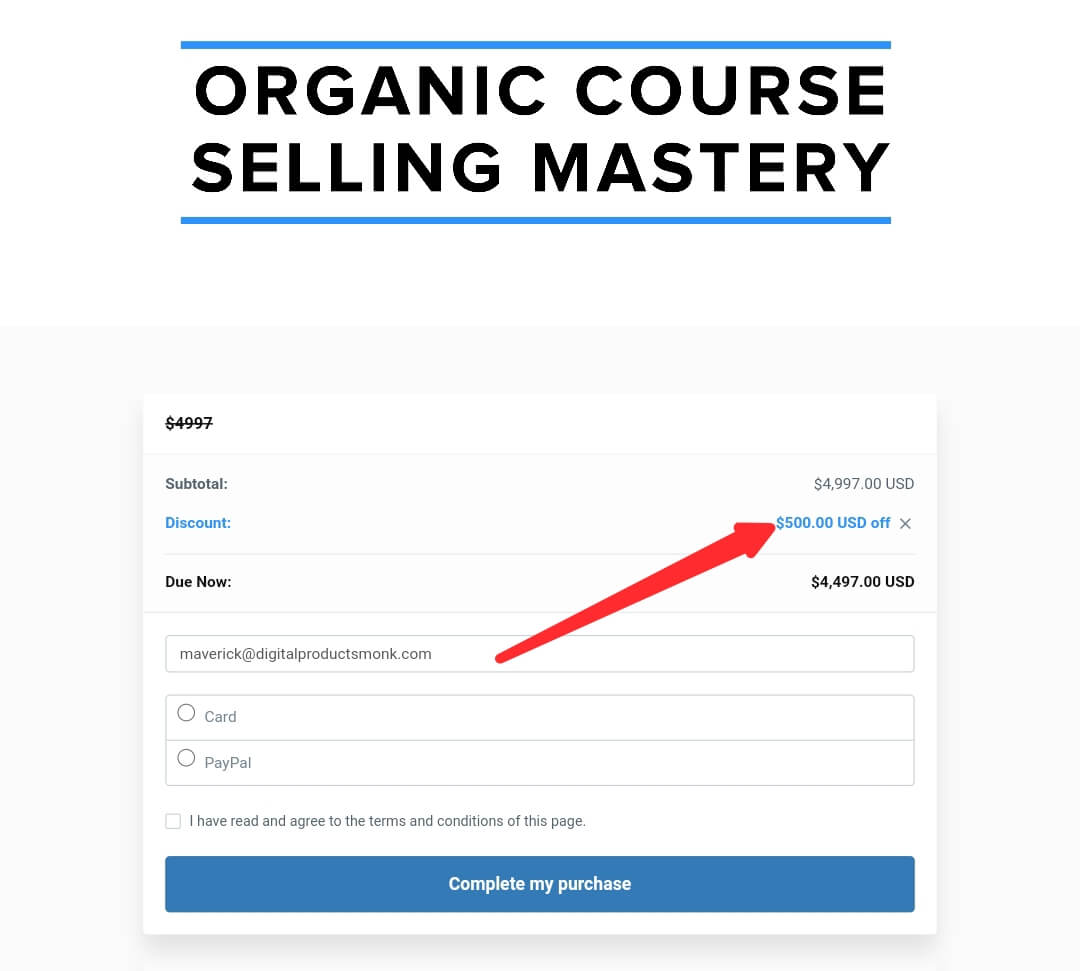 What is the Organic Course Selling Mastery All About?
This is a program by Carl Parnell that promises to teach you how to build an empire for yourself by selling your knowledge.
And what if you don't have any knowledge to sell? You can learn this business and also start helping others sell their knowledge and earn a profit.
So, this means you can either use this to make money for yourself, or you can use it to make money for others by monetizing their knowledge.
The image below shows how the course dashboard looks, and you can see that it has two main aspects.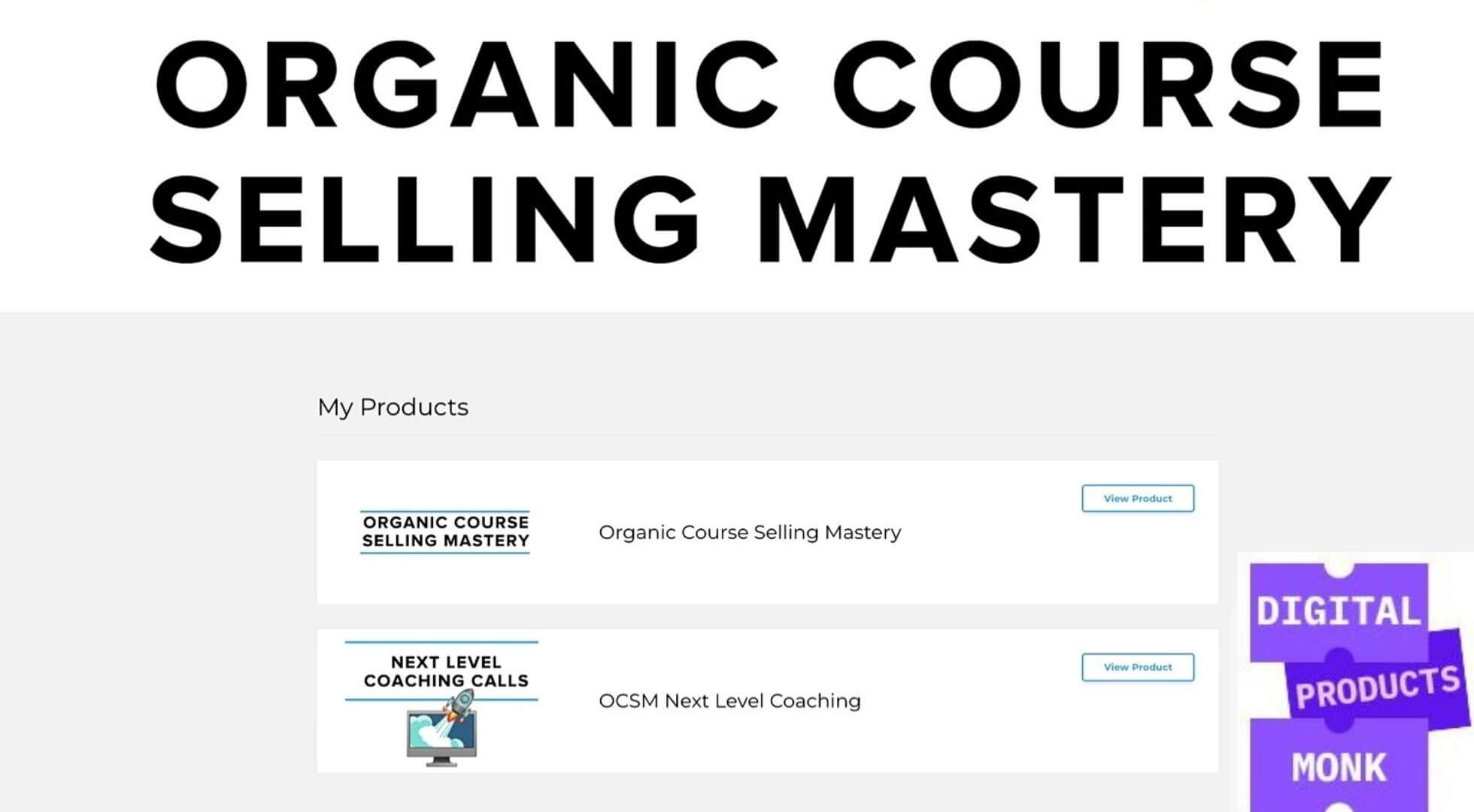 The first is the: ORGANIC COURSE SELLING MASTERY (Where all the courses are available)
And the second is the: NEXT LEVEL COACHING CALLS (Where you have group calls with Carl to ask questions about what you have learned).
More details about this will be discussed later in this section .
Challenges that initially made me reluctant to consider Joining the OCSM by Carl
Before we delve deeper, I faced some challenges and concerns that made me initially reluctant to consider joining this program.
1. Cost
The first concern was the course price, which is five thousand dollars. I was skeptical about purchasing not because I couldn't afford it, but due to potential additional costs after joining.
Many other courses out there, such as Amazon FBA and Dropshipping, require substantial capital investment after the initial payment.
However, I later realized that I can implement what I've learned in this program for free because I'm only selling my knowledge and not another person's manufactured products.
So, even after paying for the program (for which I still received a $500 discount), I wasn't burdened with extra expenses and could start making money with zero capital and investment.
2. Gurus
I am used to seeing several gurus on the net, showing proofs of their earnings and whips.
At first, I had that impression of Carl as well, and it kind of made me skeptical to join because I didn't want to make others rich while I was still poor.
However, after informing a colleague of mine in the group "Pandora Spocks" who had joined before me, I never regretted joining and I was grateful.
3. Non-support After Joining
I have once joined a program (which I will not mention due to copyright reasons related to my mentor Carl) where the support was bad.
I regretted joining and I was compelled to request a refund after paying $4000 to join.
There was no support, and it became difficult for me to even implement what I was learning.
However, Carl is not like that. Below is a screenshot of the Coaching call that you have one-on-one with Carl.
I have participated in several coaching calls with him and have also gained access to replays.
4. Achieving Early Results
I was also skeptical about joining because I aimed for early results and didn't want a situation where it would take years to achieve results.
However, the interesting part was that Carl's program provides the secret to generating mass organic traffic using social media.
And once you have traffic to your online course, achieving results becomes easier.
5. Technical Experience
Although I am a blogger and know one or two things about the tech world, there are still aspects I'm not too good at.
Aspects like video editing, webinar creation, email automation, and several others.
All of these became insignificant when I joined the Organic Course Selling Mastery.
6. Navigating the Journey Alone
Most of the time, feeling lonely on the journey can be a significant setback. Even if you join a call weekly, you might get confused about what to do.
But you can see the available live call replays in the dashboard, as shown below.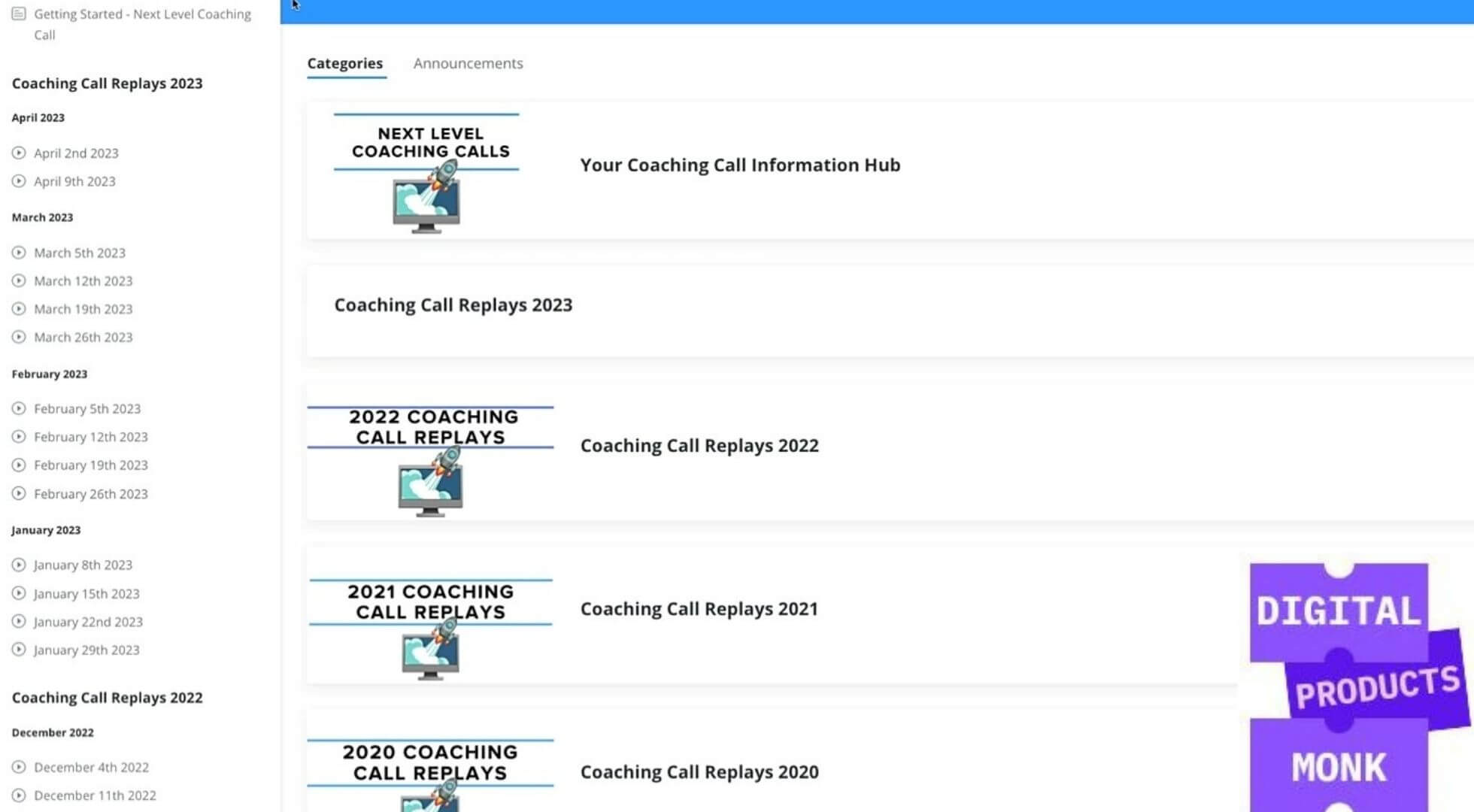 These replayed live calls are even sufficient to change one's life because they consist of past questions and answers from students who previously enrolled in this program…
And the questions they posed to Carl, which he addressed.
This includes some people sharing their results and seeking advice on amplifying sales.
All of this makes the journey simpler and easier for me.
These were the factors that initially made me skeptical to join, but when I eventually joined, I gained clarity on all my doubts.
Reasons why I eventually decided to join this program
Considering the challenges I discussed above, here's what actually led me to join the Organic Course Selling Mastery.
1. His Success with Kajabi
The first convincing factor was when I saw the award he received from Kajabi. I recognized that only someone who had conducted several webinars could achieve that.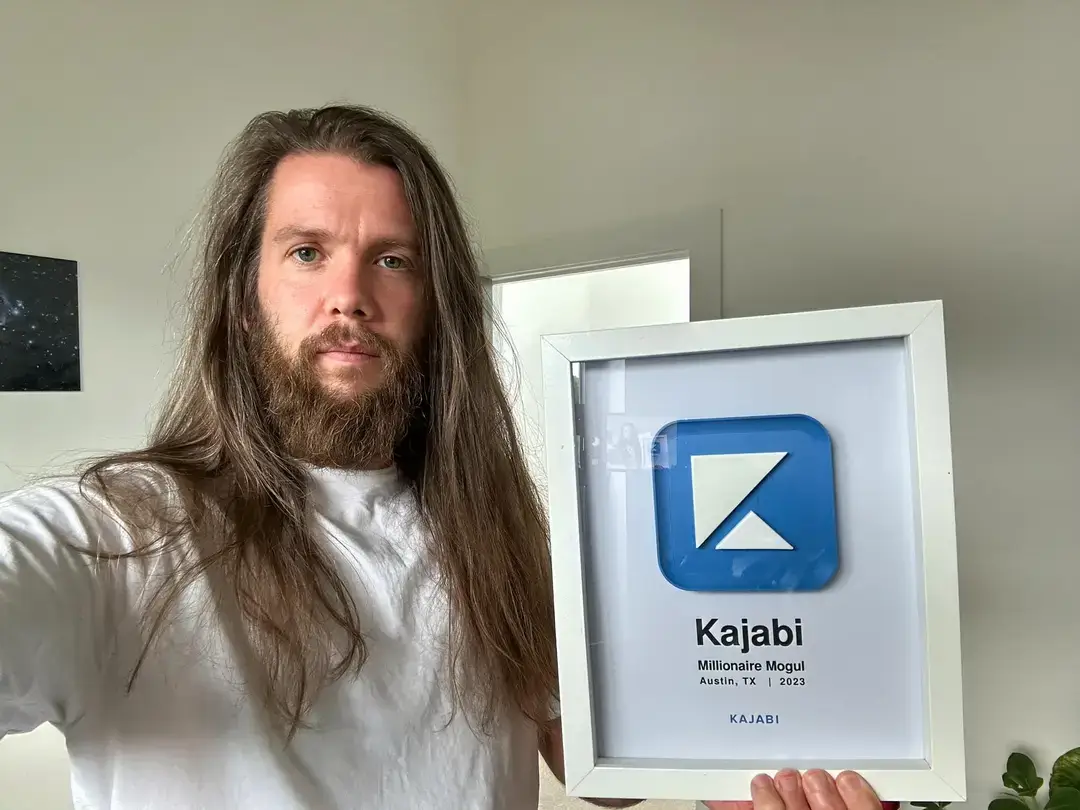 And I am the type of person who prefers someone who practices what he or she preaches, not those gurus who sell what they don't practice.
2. Free Business To Run Without Capital
Another convincing aspect was the fact that I could even get started with this without any capital.
I was so scared of having to invest a huge amount of capital into a business I don't know will be successful after paying $5k to join.
However, I got to know it's a free business to get started, and I was even able to pay less for the course by getting a $500 discount through an anonymous trick that Carl only shares secretly.
You can still use this promo code (MONK500) and this link (https://digitalproductsmonk.com/OCSM-500Off) to get your $500 discount ASAP before it expires.
3. Result From A Colleague
My friend and colleague Pandora Spocks motivated me and encouraged me to move forward with this program.
I reached out to her when I saw her earning £4,500 in a day from selling her knowledge.
She was the one who guided me and helped me clear my doubts. However, her results were what motivated me even more.
4. Ability To Build A Platform For Myself
Aside from the fact that Carl is teaching someone how to earn, he's also teaching how one can build authority and carve a niche for themselves through the usage of Facebook Groups.
Imagine having a Facebook group with over 19k+ members who are fully engaged with you and ready to take action on whatever you recommend.

There are even several others who have more members than this, and they are achieving immense results.
This was what made me join because I want to build a platform for myself and have access to a wide number of people who will be interested in whatever I am sharing with them.
5. Ability To Render This Service To Others And Earn
Aside from using this to sell my knowledge on Blogging, I realized that I could also render this service to help others sell their knowledge.
I used this knowledge to help my wife sell her crochet-making idea. She's skilled at making crochet items and decided to start with her own business.
I helped her set up and create an online course on how to make crochet items, and immediately I noticed that she was already getting results.
I started charging others to help them monetize their knowledge, using the tricks I learned from Carl.
6. Ability To Also Turn What I Have Learned Into An Online Course And Sell
This is something I am currently planning to do. However, due to my busy schedule, it's difficult for me to execute.
I mean, since I have practiced what Carl has taught me and have also used it to achieve results for other people.
That means I can even turn this into a course using my own voice, screen, and share my knowledge in the coaching business.
So, now… I am no longer teaching just about Blogging, but also how to monetize one's knowledge.
All the points mentioned above are what convinced me to join and made me forget about all the challenges and drawbacks that I discussed earlier.
CLICK & USE COUPON CODE (MONK500) TO GET $500 OFF
The Program Overview and What's Inside
Now, let me guide you and provide an overview of what's inside this program by showing you my dashboard.
Perhaps, one of these points can motivate you to consider joining as well.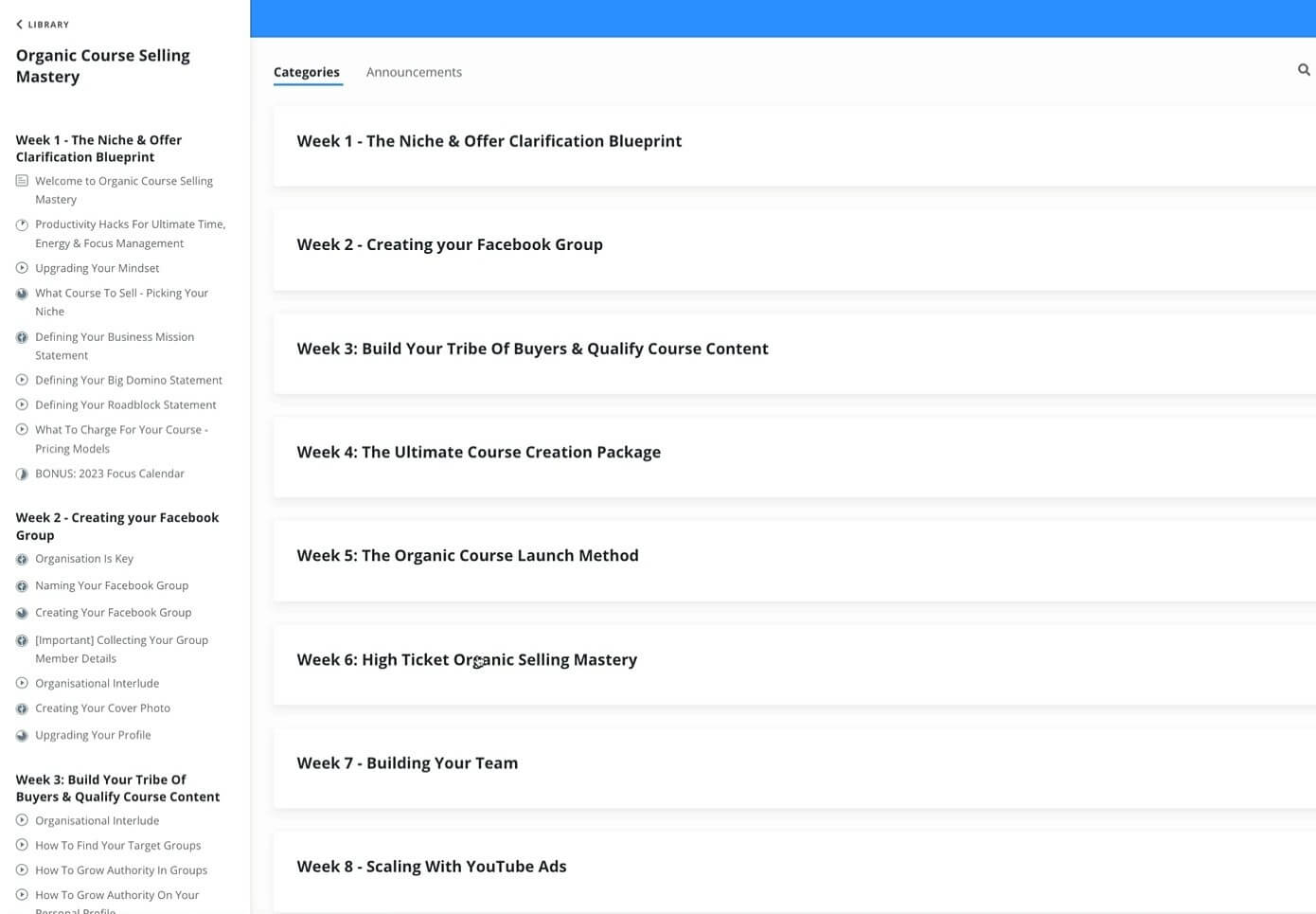 Week 1 – The Niche & Offer Clarification Blueprint.
This will help you address any doubts you may have about your knowledge.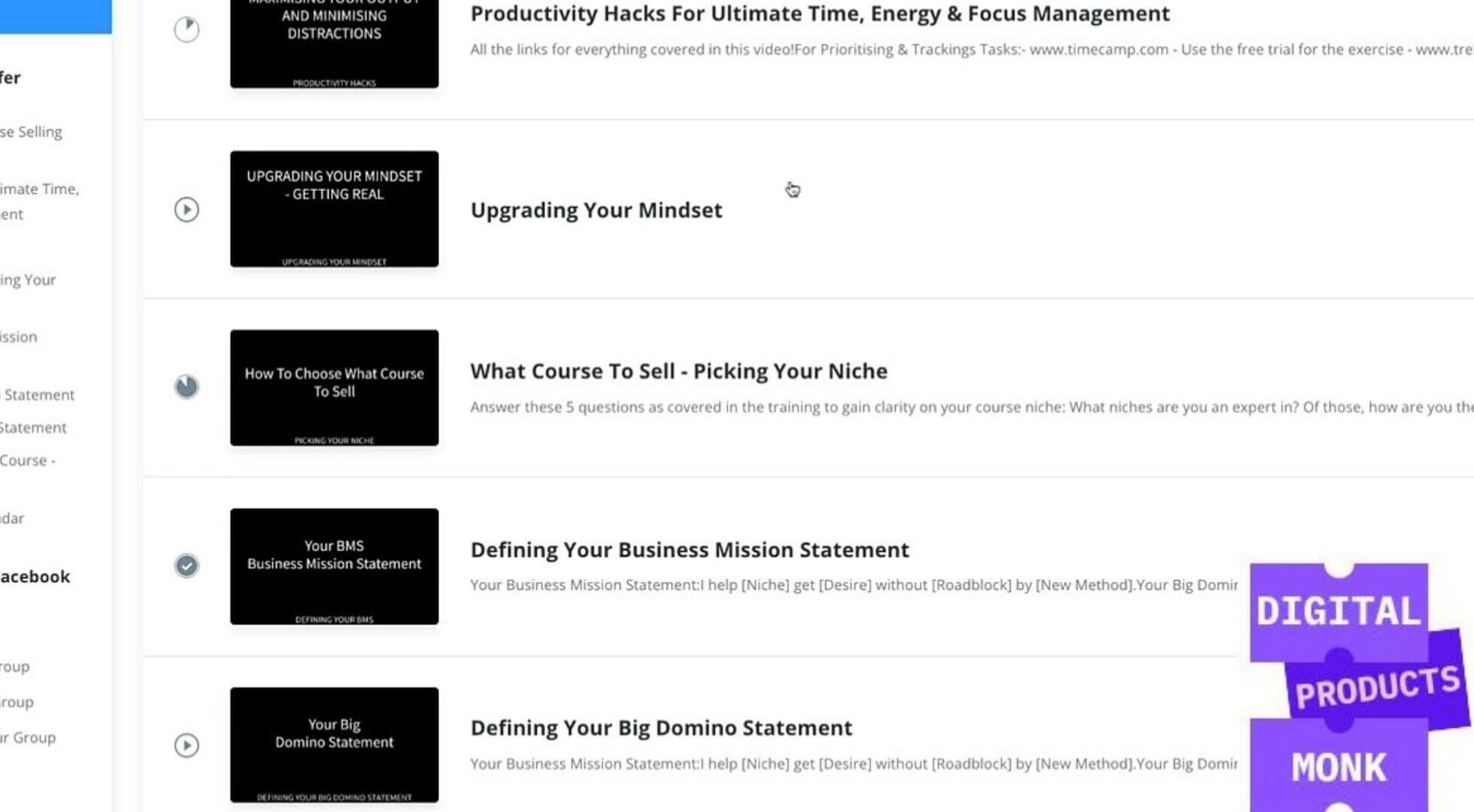 It's more about motivating you and assisting you in finding your niche and charting your path to success.
Week 2 – Creating your Facebook Group.
During this week, you will learn how to establish and structure your Facebook group, which is free to create.
Week 3 – Build Your Tribe Of Buyers & Qualify Course Content.
This is where you will learn strategies to attract numerous people to join your Facebook group and enhance your visibility on the platform.
Week 4 – The Ultimate Course Creation Package.
In this week, you'll discover how to develop your course and techniques to transform your ideas and knowledge into a profitable venture.
Week 5 – The Organic Course Launch Method.
Here, you'll learn how to use pre-selling to generate significant revenue and also how to sell your concepts through low-ticket webinars.
You can possibly pre-sell or sell your initial ideas for around ($500 or less) to kickstart your journey.
Week 6 – High Ticket Organic Selling Mastery.
This is a pivotal week where you'll grasp the art of structuring webinars effectively and employing Carl's Grandfather technique to sell high-ticket offers.
With these strategies, you can sell your knowledge for as much as $10,000, though if that seems daunting, you can still aim for around $3000 for multiple sales.
Week 7 – Building Your Team.
This week delves into how you can streamline your processes and hire team members to support your efforts.
You'll learn how to hire, train, and decide when it's necessary to replace a team member.
As your revenue grows and you sell high-ticket items, doing everything alone becomes challenging.
Not everyone possesses leadership and managerial skills, which is why this week is an essential part of the program.
Week 8 – Scaling With YouTube Ads.
Although scaling doesn't necessarily require YouTube ads, after numerous students requested ways to expand their reach beyond organic methods, Carl included this optional Week 8 in the program.
It teaches you how to scale further using YouTube ads.
Remember, this is optional and not necessary.
However, given that traffic is the lifeblood of a business and you are already making thousands of dollars with organic methods, you might choose to allocate a budget for YouTube ads and increase your earnings.
Advantages of OCSM
Let's discuss more about some of the advantages of this program.
1. Coaching Call
You have the opportunity for a group call with Carl, along with access to several other call replays.
2. Support Group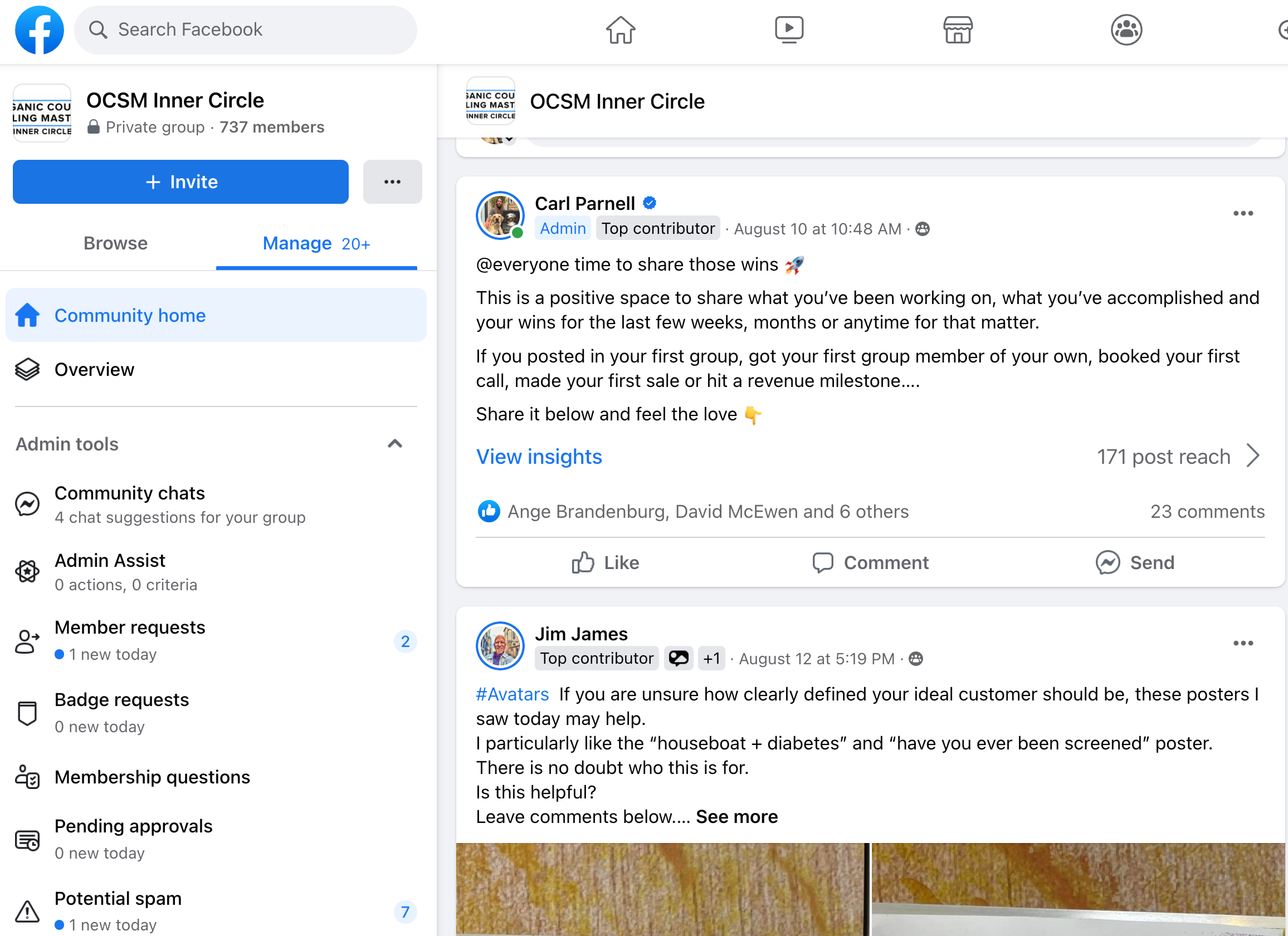 Access to the private Facebook group where you can learn from others and establish valuable connections.
3. Coaching Call Replays and Transcripts
You gain access to replays of previous coaching calls and one-on-one interactions between Carl and other students.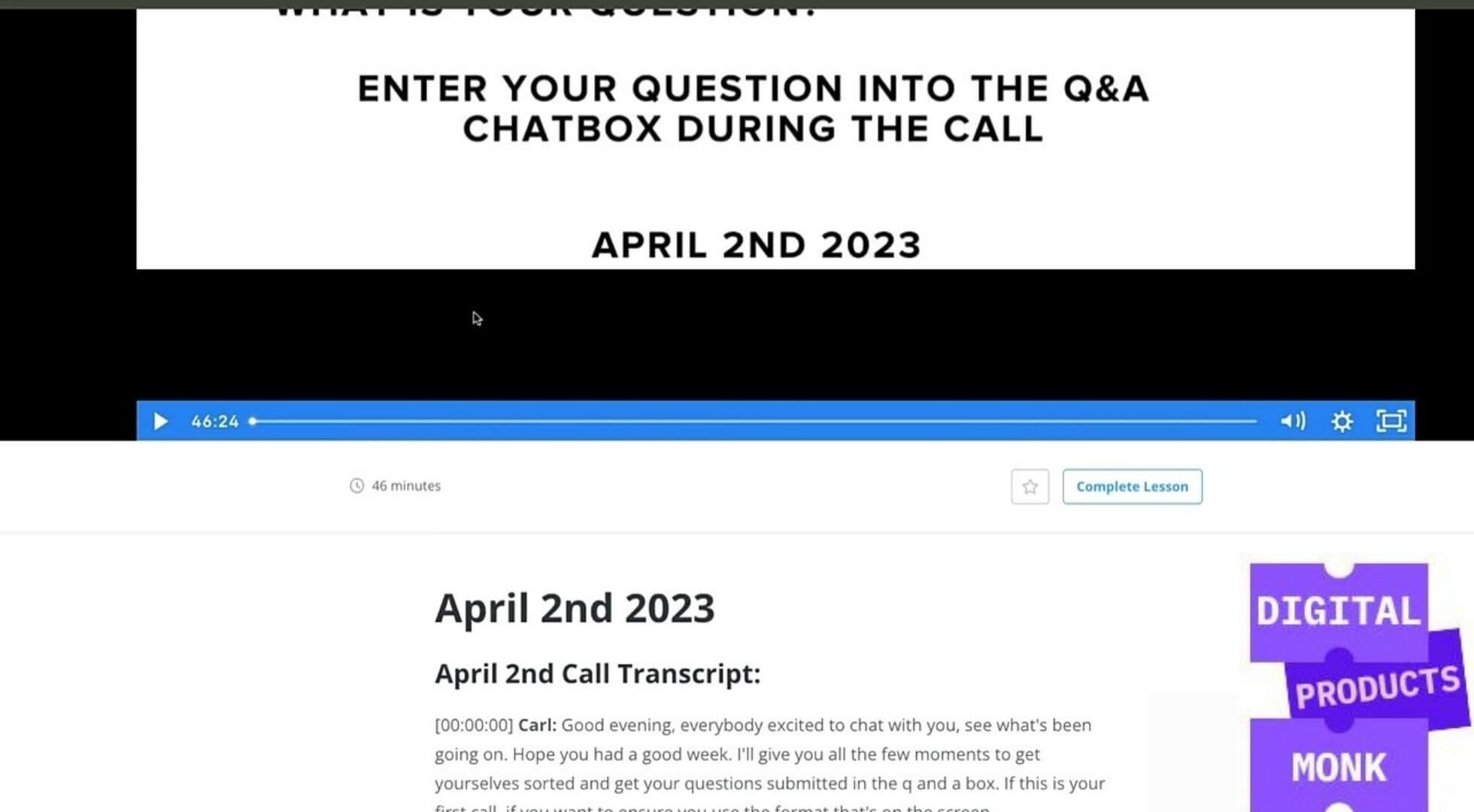 Additionally, you'll receive text transcripts of these replays in case you are unable to watch them.
4. Step-by-Step Guidance for Beginners
Especially in terms of setting up the Facebook group, Carl goes the extra mile to ensure you can execute each step correctly and obtain genuine testimonials for closing more sales.
Even if you're an adult, the process is simplified for your convenience.
Additional Advantages…
5. Course Creation Without Hiring and Payment Page Setup (Using Kajabi & PayPal)
6. Mastering Webinars… Since webinars are highly effective. Utilizing the pre-selling method.
7. Earning by Assisting Others in Launching and Profiting from Their Knowledge.
8. Provided Sales Script.
9. Booking Calls and Generating Sales.
10. Establishing a Sales Team for Enhanced Selling (Where to find them, how to train, when to let go)… Including a CRM tool for lead management.
And many more…
Disadvantages of OCSM
A little discussion about the the cons which I see in this program.
1. Kind of Expensive
For someone like me, $5,000 seems a bit steep. However, after joining, I can assure you that it's well worth the price.
Imagine if everyone had access to this powerful and comprehensive coaching program.
The information within this guide would no longer be a secret and it might become saturated.
If you're similar to me and hesitant about a substantial investment in this, I understand your hesitation in calling it expensive.
However, there's a money-back guarantee, and you can also benefit from a $500 discount (so you pay $4,497 instead of the $5,000 that 95% of other students have paid and are paying).
Simply use this link (https://digitalproductsmonk.com/OCSM-500Off) and the coupon code (MONK500) to enjoy these advantages.
2. Abundance of Tutorials
Additionally, if you tend to procrastinate, like I do, you might find it challenging to dedicate the time required to go through this program over 8 weeks.
Yet, ask yourself, "For how long?" I can relate, as I am also prone to procrastination. However, I summoned the determination to watch all the weeks.
Considering you won't need to spend a lengthy period on it and given that this is a $5k program, it shouldn't be as superficial as a $100 program where the instructor is solely focused on making money.
I can genuinely vouch for Carl that he has invested a lot in ensuring his students succeed.
When you watch the program, make sure to have a notebook and pen ready to jot down important aspects that will be most useful to you.
This way, you can easily refer back to those sections when implementing the lessons.
3. Not a Get Rich Quick Scheme
If you're seeking a get-rich-quick solution, this program might not be suitable for you.
It's important to note that it's not a program that guarantees instant results the following day.
Instead, it's a program that teaches you a legitimate business approach.
You can even apply these principles to assist others and teach your family how to monetize their knowledge, no matter their area of expertise, whether it's music, guitar playing, real estate, physical cleaning services, blogging, e-commerce, or any other field.
They can harness their knowledge and earn more than they do from their current endeavors.
How You Can Join and Pricing
Joining this program is straightforward.
While going directly to the checkout page would require a $5,000 payment, there was a time when Carl conducted a webinar as a guest and offered a $500 discount to participants several months ago.
I obtained access to that link through a close friend in the Organic Course Selling Mastery Team and received the coupon code to reduce $500 from the original price.
I can't guarantee that this offer will remain available for an extended period.
Therefore, my advice is to swiftly seize this opportunity before it expires.
Simply use this link (https://digitalproductsmonk.com/OCSM-500Off) or click the button below or anywhere on this page and input the coupon code (MONK500) to receive a $500 discount.
By doing so, instead of the full price of $5,000, you'll only pay $4,497.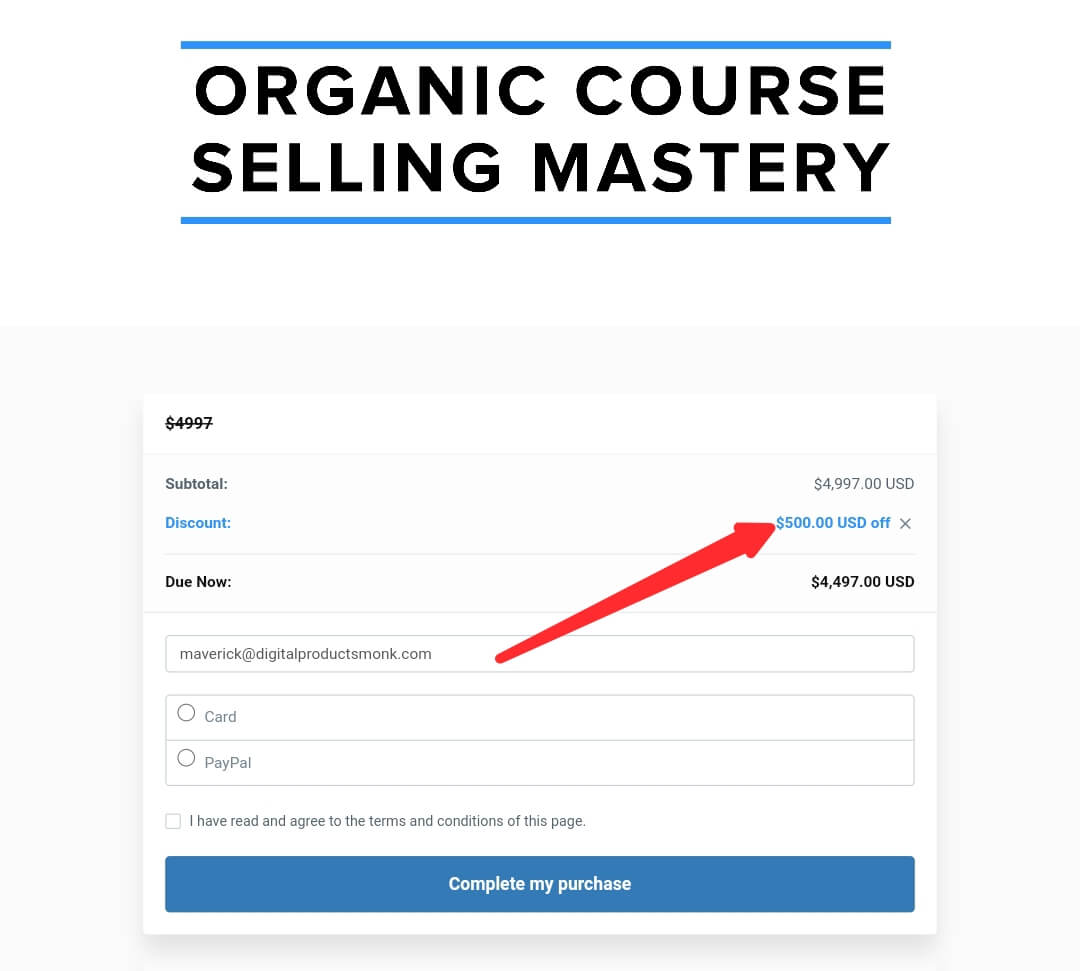 Remember, the coupon code will only be effective if you use the recommended link provided here.
Take action promptly before this link and coupon code expire.
CLICK & USE COUPON CODE (MONK500) TO GET $500 OFF
Final Thoughts
I believe I've effectively explained my perspective on the OGSM program as a student.
If you have any further questions, feel free to ask in the comment section below, and I'll be happy to respond.
Regarding the coupon code, it's advisable to seize the opportunity quickly.
Talk to you soon.
Best regards.
Hopefully these video reviews from other students can insight you as they did for me